Sometimes it's difficult to get all the protein you need from whole food sources, so many people turn to egg protein supplements.
Protein powders are a convenient way to add protein to your diet. They come in a variety of flavors, and can be added to a variety of foods to increase their protein and caloric content.
Egg protein powder supplements are commonly used by athletes, bodybuilders, and people trying to lose weight, since eggs are low in fat and calories.
Not all protein powders are equally effective as sources of dietary protein. Some are much better than others. Here we review some of the best egg protein powder supplements, and recommend which ones to buy.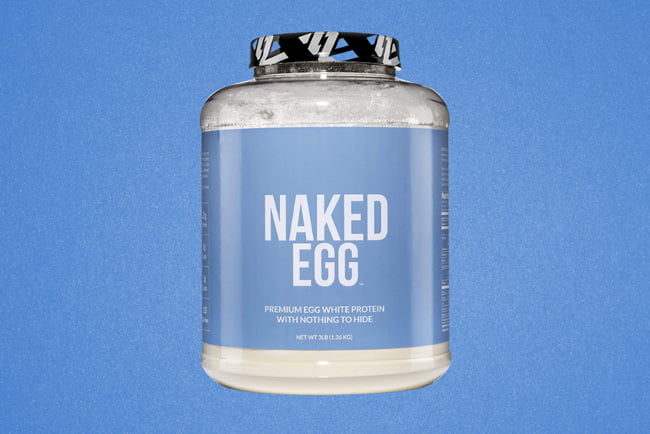 Naked Egg Protein Powder only contains two ingredients, egg whites and sunflower lecithin, it's even free of any additives or fillers.
Each dose contains 25g of protein, 2g of carbs, 110 calories, and 5.8g of BCAAs (branched-chain amino acids) per serving.
This product has undergone independent heavy metals testing to ensure a safe product.
NAKED EGG Protein Powder is available for purchase on Amazon.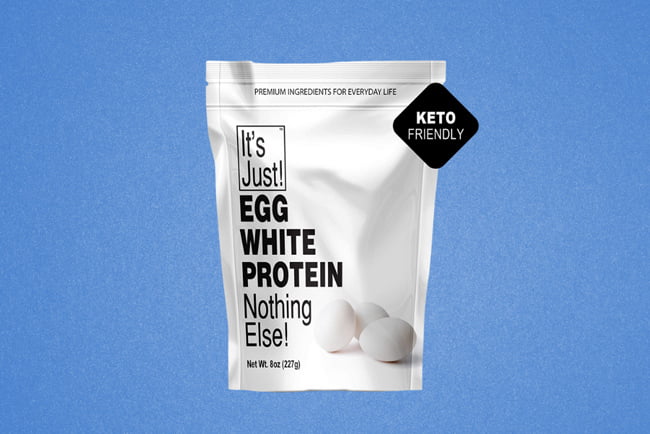 This product is sourced and made in the USA, the best part is this product is whole because it only contains one ingredient, egg.
Each pouch contains about 35 servings and each 2 tablespoon serving is equivalent to a whole egg.
It's Just- Egg White Protein Powder is free of additives, soy, msg, sugar, preservatives, lecithin and fillers, making this product friendly for just about anybody.
It's Just- Egg White Protein Powder is available for purchase on Amazon.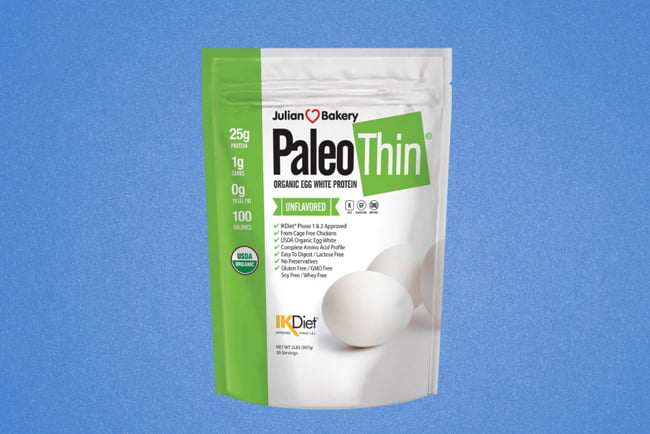 This paleo friendly product is sourced from USA farms.
The unflavored formula can easily be mixed with water, juices or smoothies.
There are only two ingredients; egg white powder and sunflower lecithin.
Each dose contains 25 grams of protein per scoop and only 1 carb making it friendly for many diets.
Julian Bakery Paleo Thin Protein Powder is available for purchase on Amazon here.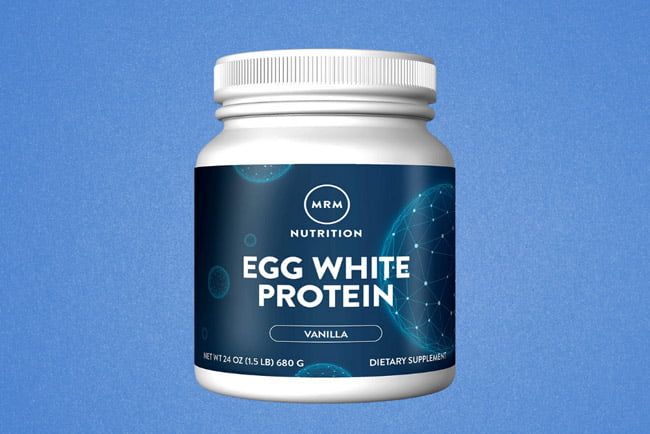 This newly released product contains 23 grams of protein from 6 large eggs, in which are gluten and dairy-free.
The company has stated that this product contains no cholesterol, fats or carbohydrates, unlike many other protein supplements.
MRM Natural Egg White Protein Powder has added digestive enzymes that may have the ability to improve digestion and promote nutrient absorption.
This product is available in different flavors, and the company used monk fruit extract for a safe, natural sugar alterternative.
MRM Natural Egg White Protein Powder is available for purchase on Amazon here.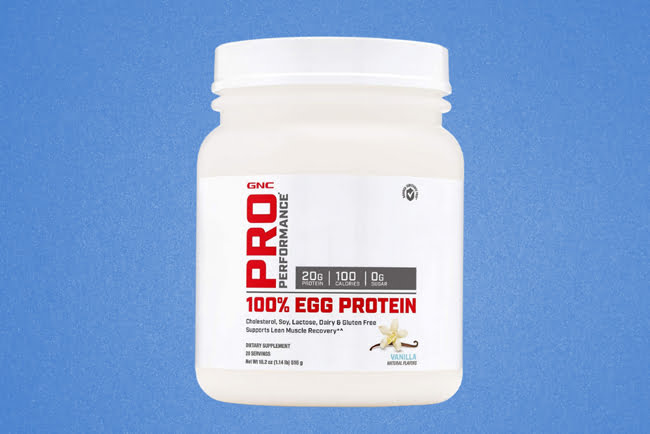 If you are looking for a whole protein supplement, GNC Pro Performance 100% Egg Protein Powder may be the selection for you.
Each dose contains 25.8 grams of 100% egg protein, with no added ingredients.
The company confirms that the protein is free of dairy, gluten, added sugar and does not contain any cholesterol.
Each dose only contains 100 calories per serving, so it can be incorporated in just about any diet.
GNC follows good manufacturing practices (GMP) and has implemented over 150 quality check procedures.
GNC Pro Performance 100% Egg Protein Powder is available for purchase on Amazon here.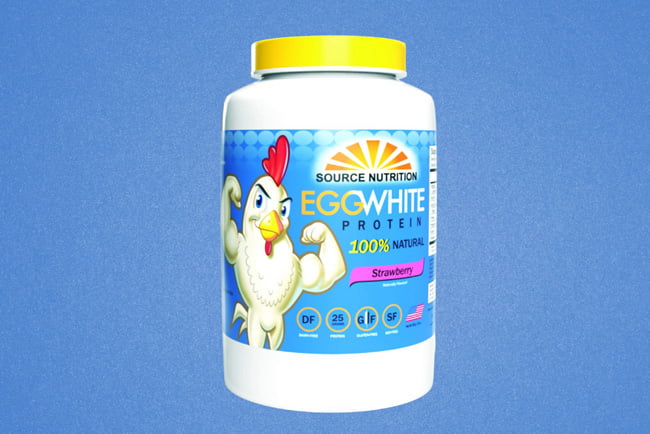 This product has been flavored naturally and is diet-friendly considering it's dairy-free, soy-free, and gluten-free.
The product does come flavored, however it does not contain any artificial flavors or sweeteners.
Each dose contains 33 grams of protein, which is more than other leading products.
Egg White Protein Powder by Source Nutrition is available for purchase on Amazon.
What is Egg Protein Powder?
This new form of protein powder is great because it only consists of powdered egg white.
Egg whites consist of 90% water and 10% protein, which is 70% of the protein content found in the egg.
Egg protein powder contains high amounts of protein just like any other supplement, however, unlike most protein powders egg protein powder does not have fat and carbohydrates.
Research has found that egg protein powder improves muscle mass strength and performance, which has intrigued many to try this new protein source.
Health Benefits of Egg Protein Powder Supplements
There are many great benefits associated with the supplementation of egg protein powder.
A recent study compared egg-white protein to carbohydrate supplement, the study indicated that there was significant increase in serum citrulline levels and changes in metabolites in comparison to the carbohydrate supplement that were associated with the protein supplement. (1)
Egg protein powders provide a nutrient-dense source of energy that stems from protein, fat and other essential vitamins including thiamine, folate, riboflavin, vitamin B12 and B6, which are crucial for the production of energy.
Eggs contain nine essential amino acids that are essentially the building blocks for new muscle.
Egg protein supplements have also been shown to increase levels of good cholesterol which have been associated with lower risk of cardiovascular disease. (2)
One boiled egg contains 40% of your daily vitamin D, 25% of daily folate, 12% daily riboflavin, 20% of daily selenium and other essential vitamins.
A medium sized egg that weighs 50-60 grams contains 6-7 grams of protein, the egg white contains 40 different proteins and is low in lipids.
Egg protein supplements are a good source of antioxidants and carotenoids.
Researchers have found that egg protein has one of the highest sources of leucine, a BCAA that has been shown to play a crucial role in muscle health.
Potential Side Effects of Egg Protein Powder Supplements
Egg protein contains avidin compounds that are known for interfering with the absorption of biotin.
This isn't considered a concerning matter because most egg white protein supplements are heated during the formulation process, in which neutralizes the avidin compounds.
If the egg protein was not heated then one should consider supplementing with biotin to avoid a deficiency.
Egg protein powder may pose a health risk for those suffering from an egg allergy.
Those who have an egg allergy have reported noticing hives, eczema and other side effects such as itchy, red and watery eyes.
Depending on the severity of the allergy, in some instances some may experience gastrointestinal issues, weight gain, nausea, vomiting and dizziness.
If you are allergic to eggs you should avoid this source of protein and seek medical attention if you experience difficulty breathing after taking egg protein powder.
Who Are Egg Protein Powder Supplements For?
Egg protein powders are great for those who have a whey or dairy allergen.
Many protein supplements will contain fillers and other active ingredients that can have adverse side effects, while egg protein supplements typically consist of just dried egg and water.
Elders are great candidates for egg protein supplements, because unlike other protein sources they don't contain any added sugar or indigestible fillers.
Egg-white protein is high in quality and easily digested, so it shouldn't cause stomach discomfort.
How/When to Take an Egg Protein Powder Supplement
Fitness experts have suggested that the best time to take a protein supplement is 15-50 minutes after exercise.
This period of time is known as the "anabolic window" which is sought to be the prime time for absorbing protein and nutrients.
Egg protein powders are often isolated so they are able to dissolve and mix well with liquids.
The best way to take an egg protein powder is to mix it with a cup of water in a blender bottle, this will ensure all the protein has been dissolved.
Dosage
Depending on what you are wanting to achieve through supplementation of this product the dose will vary.
Those who are looking to build muscle researchers suggest taking 1.2-1.7 grams of protein per kilogram of body weight per day, or 0.5 to 0.8 grams per pound of body weight. (3)
How to Pick a High-Quality Egg Protein Powder Supplement
Not all supplements are created equal, some will contain excess or inactive ingredients that host no benefits and in some cases the compounds can be harmful, so choose a product that consists of a simple but effective formula for example
Conclusion
Egg protein powder supplements have made on-the-go protein, great for those who suffer from common whey or soy allergies. This alternative is typically cleaner than other protein supplements due to the lack of unneeded ingredients found in many other protein supplements.
Sources