Ginseng has been used in Chinese ancient medicine over 2000 years and is one of the most commonly cultivated herbs to this day.
It's widely used as a natural energy booster and has been said to enhance endurance, stamina, and reduce fatigue.
Various studies have reported that ginseng helps improve mood, increase energy, and intellectual performance.
Ginseng is considered an "adaptogen" herb meaning it has the ability to help the body recover from mental and physical stress, and provide the body with energy.
Scientists believe the ginsenosides compounds found in ginseng provide these amazing benefits.
Here's our top 5 picks for the best ginseng supplements: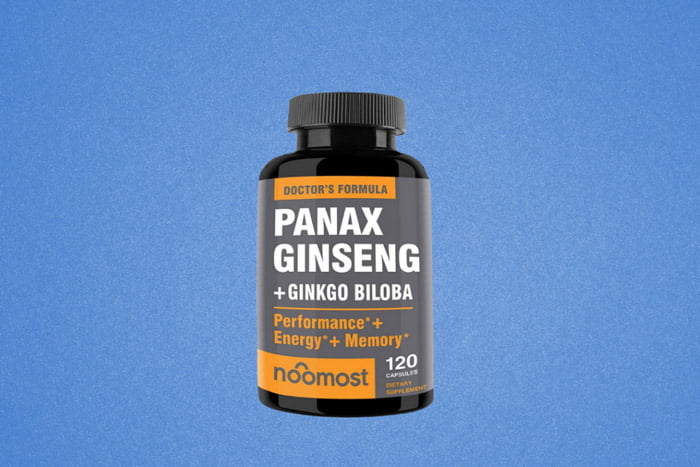 These extra strength ginseng supplements contain 1000mg of ginseng per dose.
In addition to the ginseng, Noomost Authentic Korean Red Panax Ginseng contains 60mg of ginkgo biloba leaf extract which contains powerful antioxidants and may even promote eye-health.
The company stated that this product is gluten-free, non-GMO and vegan.
Nature's Bounty Ginseng Complex Capsules contain four types of Ginseng, royal jelly concentrate and vitamin B12 in the form of "Cyanocobalamin" which is important for cell reproduction and blood formation.
The company claims all products are made in the USA and are laboratory tested.
Each dose contains 400mg of ginseng, 30mcg of Vitamin B12, and 2mg of royal jelly.
This extra strength tincture is certain to reach your daily value, containing 2000mg of Panax Ginseng Extract per dose.
The company also included citric acid as a main ingredient, which can interact with stomach acids and enzymes and promote better digestion.
This product is made in the USA and the company claims it was formulated with the help of healthcare professionals.
Each capsule contains 1000mg of American ginseng which claims to be recently grown and not stored for years like other products.
GINSENG & HERB CO-OP states that this product is residue tested and professionally graded to meet the U.S. Department of Agriculture (USDA) standards.
This product only consists of 1 ingredient, and does not contain any fillers, binders, or other additives.
These extra strength soft gel capsules measure at 1500mg per dose, which is sure to meet one's daily intake.
The company states that the product is non-GMO, no soy, no irradiation, no additives, gluten-free, and does not contain any preservatives.
The ingredients have been third party lab tested for quality and purity.
What is Ginseng?
Ginseng is a plant that grows in various warm regions across the globe.
It's been widely used for its therapeutic and medicinal properties in Asia and North American for centuries.
To this day ginseng is one of the most produced herbal medicines in the world.
There are two main types of ginseng; Asian or Korean ginseng, which have been shown to host different types of benefits.
Panax quinquefolius is also known as American ginseng because it's commonly found in north America and Panax ginseng is commonly known as Korean ginseng.
American ginseng has been considered less stimulating in comparison to Korean ginseng.
Ginseng is considered an "adaptogenic" herb meaning it has the ability to support the body's ability to handle physical and emotional stress.
Health Benefits of Ginseng
Ginseng was first used by the Chinese to replenish vital energy, however, since then people have commonly used it in many at-home treatments for illnesses.
Ginseng has been known for its anti-inflammatory and antioxidant properties.
Blood sugar
Different studies have shown that American ginseng increases insulin production and reduces cell death in pancreatic β-cells.
American ginseng also has also been shown to decrease blood glucose in type II diabetic patients.
Evidence suggests that ginseng and ginsenosides are beneficial for diabetes therapy and may have the ability to regulate blood glucose levels.
Inflammation
Ginseng has beneficial antioxidant and anti-inflammatory properties.
Ginseng has direct effects on key players in the inflammatory cascade.
Studies have suggested that the ginsenoside compounds found in ginseng could inhibit inflammation and increase the overall antioxidant capacity in cells, which may also reduce inflammation.
Weight
Ginseng has been shown to have an effect on our metabolism.
During a clinical study, Panax ginseng extracts were given to middle-aged obese patients for an 8 week period.
The results of the study indicate that ginseng exerted a weight loss effect and the ginseng had a slight effect on the gut microbiota in study participants.
Brain Function
A study found consuming panax ginseng daily for four weeks has the ability to increase social functioning and improve other aspects of mental health.
Ginseng has also been shown to play a slight role in our gut microbiota and is beneficial to the gut.
Researchers suggest this may promote better mental health since the gut and brain are connected, both physically and biochemically, and communicate using neurotransmitters that can contribute to feelings of happiness.
Stress Relief
Ginseng has been shown to effectively suppress stress, which has been shown to play a main role in the cause of depression.
Ginseng has neuroprotective properties making it a potential candidate for easing stress and improving symptoms of depression and anxiety.
Erectile Dysfunction
It's estimated that about 50% of men aged 40-70 years old will experience erectile dysfunction (ED).
The biggest risk factors for erectile dysfunction are "age, smoking, hypertension, coronary artery or peripheral vascular disease, obesity, sedentary lifestyle, hyperlipidemia, trauma or surgery to the pelvis or spine, diabetes mellitus, benign prostatic hypertrophy, depression, and low urinary tract symptoms".
Blind placebo studies have concluded that ginseng can decrease premature ejaculation and improve sexual performance.
However, researchers are still unsure of the exact mechanism that makes this possible.
Some believe it may be the increase of nitric oxide, which promotes blood flow.
Ginseng is not FDA-approved for treating erectile dysfunction.
Who May Benefit from a Ginseng Supplement
Ginseng is great for those who are looking to boost their immune system and energy.
Some studies also suggest that ginseng may have the ability to benefit those suffering from high blood glucose levels.
Many health practitioners have advocated ginseng for those suffering from diabetes, due to its ability to alter blood glucose levels, however stronger evidence is still needed.
Recommended Dosage
Depending on the age of the consumer the dosage will vary, this is why it's best to consult with your health practitioner before taking ginseng.
The average dose will range between 100-300mg of extract per day for 3-4 weeks.
The extract should not exceed 7% standardized ginsenosides, users that have exceeded that limit have reported adverse side effects.
Potential Side Effects
There are side effects associated with both Asian and American ginseng such as:
Feeling nervous
Insomnia
Changes in blood pressure
Chest pain
Vomiting
Irregular stools
One can typically avoid these adverse effects by not exceeding the daily amount and by staying hydrated.
Recap
Ginseng has been used for thousands of years by the chinese and remains one of the most popular herbal remedies used in the Usa.
Ginseng has promising effects on reducing glucose and improving fasting blood glucose levels, which has been shown to help prevent weight gain, achieve weight loss goals, reduce insulin resistance, stress hormones, and inflammation.