What Sets BlueBiotics: Ultimate Care Apart From the Rest?
For years, BlueBiotics has been the most highly recommended and most effective probiotic supplement available. The potency of their supplement is the result of a diverse selection of researched probiotic strains, fueled by the prebiotic rice flour supplied in each capsule, which all have the following overlapping benefits: increased nutrient absorption and energy production, promoting gastrointestinal health and regularity, and protecting your body from harmful bacteria.
BlueBiology's probiotic is the most well-formulated and potent immune supplement of any supplement category. It is also gluten-free, dairy-free, vegan, and free from any unnecessary additives, dyes, fillers, binders, or preservatives.
From Lactobacillus acidophilus to Bacillus Coagulans, BlueBiotics is a veritable list of the most researched and proven probiotic bacteria known to science. This is the only full-spectrum probiotic supplement on the market, as it contains strains which are typically not available to the general public (Bacillus Coagulans and S. Boulardii). The CFU count alone is remarkable enough, leaving most comparable spectrums in the dust… HOWEVER even more surprisingly our tests showed that a whopping 98% of the probiotic colonies in BlueBiotics were still alive, making this BY FAR the most effective probiotic supplement that we have ever reviewed. Also, because of the diverse pool of strains in BlueBiotics, users have reported a wide variety of benefits from weight loss, to increased energy, improved digestive health and cognitive function. Many of our staff switched to these probiotics, as well as myself and my family.
My staff and I have received many requests for an expanded review of our experience with BlueBiotics, and we are happy to oblige!
When we first set out to review the top probiotics brands on the market, we started by finding those with a high CFU count, diverse set of proven strains, and affordable price.
The most important factor to consider is potency
While we did take these supplement's ourselves, we didn't simply trust our own judgement. We sent several bottles of each brand in to our usual lab to test the actual potency of each product. This is where 
BlueBiotics
 really stood out from the pack. We put a graph together with the data we got back from the lab for each brand.
Percentage of living strains in each brand (Potency):
Percent of Living Cultures by Brand
BlueBiotics: Ultimate Care
As we get further down the list, the scores get MUCH lower. I left the rest of the bottles we tested out of this graph, but the average percent of living cultures remaining was just under 17%! This proves that you absolutely cannot trust the products many of these brands produce.
I was so impressed by BlueBiotics results, I ordered another bottle and sent it in for a second test. It came back with the exact same results (98%)! My staff and I were convinced – this was the real deal (and the top brand by far).
What to expect from the probiotic strains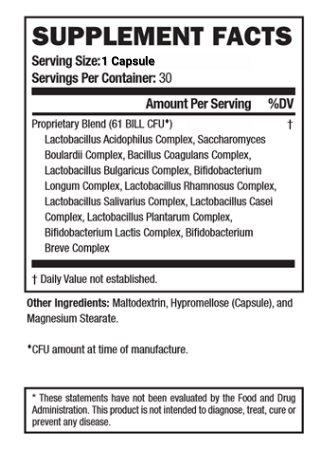 This is a very diverse matrix of probiotic strains, meaning the vast majority of benefits linked with probiotics are benefits which BlueBiotics users may experience. This includes, but is not limited to: increased nutrient uptake from all sources, improved cognitive function, increased energy and metabolism, and weight loss; as well as a reduction in symptoms such as upset stomach, diarrhea, constipation, and any antibiotic-associated symptoms. Studies have linked cultures in BlueBiotics to a reduced likelihood of bacterial infections within the sinuses, throughout the digestive tract, as well as both bowel and vaginal bacterial infections. Lastly, BlueBiotics is one of the only known supplements to contain both Bacillus coagulans, which has greatly boosted immune response in studies, and Saccharomyces boulardii, which is a much more advanced level of probiotic.
Saccharomyces Boulardii, the advanced probiotic
One of the new additions to the probiotic strains included in BlueBiotics is Saccharomyces Boulardii. Studies have shown that S. Boulardii has an astounding affect on your body's ability to digest food and absorb nutrients, however the real power of this strain lies in its ability to fight off infection and maintain healthy joints and peak energy levels. You won't see S. Boulardii in other supplements as it is both difficult and costly to manufacture and encapsulate. The fact that BlueBiotics Ultimate Care has found a way to incorporate S. Boulardii places BlueBiotics on an entirely new level.
S. boulardii is a complex probiotic. Unlike most other probiotics, S. boulardii is a yeast. And unlike simple bacteria probiotics, yeasts have both a Mitochondria and a Nucleus, which allows them to produce key enzymes necessary for all energy production. Not only is it able to perform a larger variety of necessary functions much more effectively than a single-celled probiotic, it is able to address multiple issues at once – which allows other nearby probiotics to focus on their specialized tasks.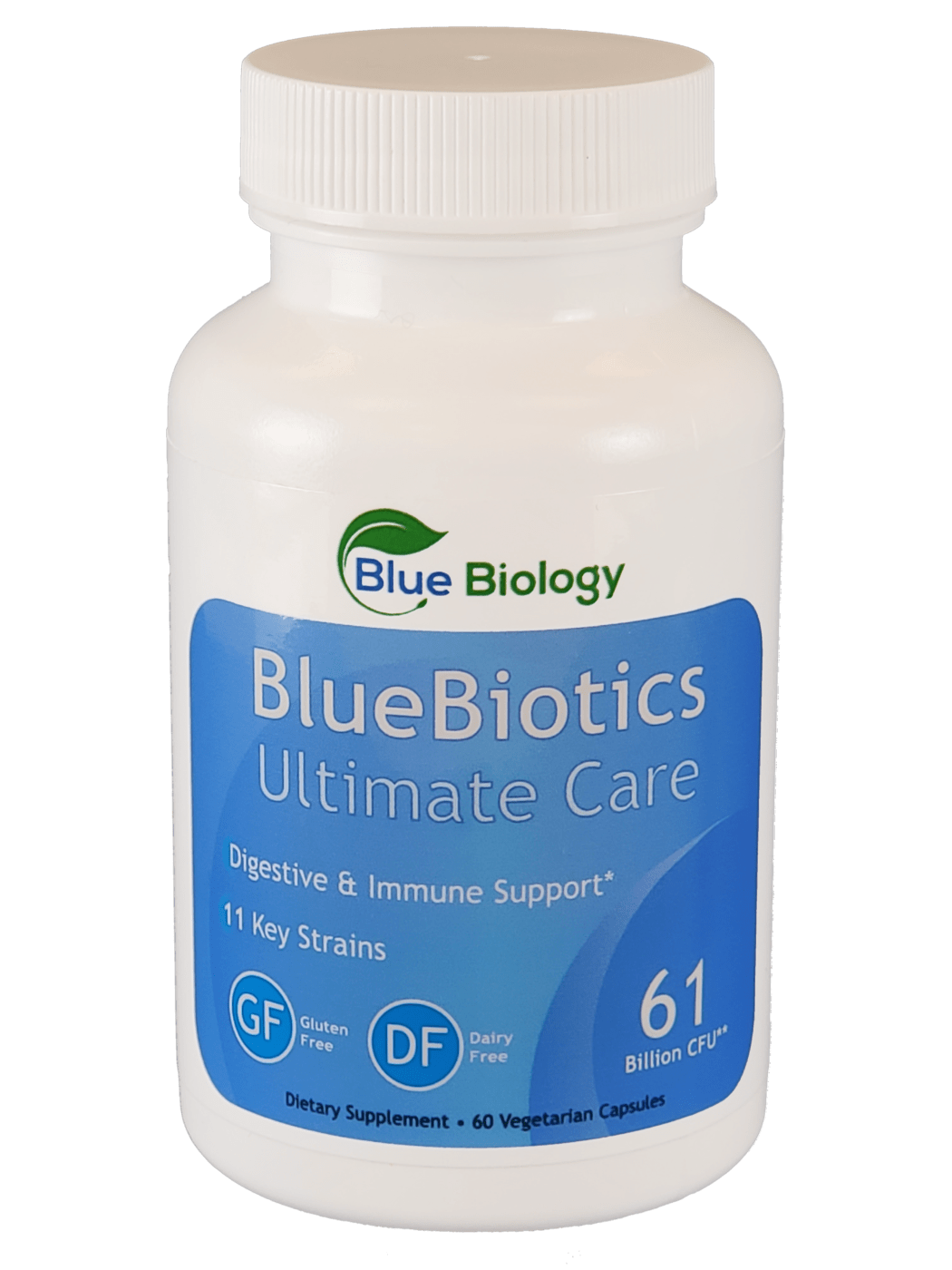 Out of all the probiotics which we reviewed, BlueBiotics contained the highest percentage of live cultures – by a significant margin. 98% of the bacterial colonies were alive upon our first analysis, which was confirmed by our secondary analysis and follow-up examinations. The probiotic strains were not only diverse and vibrant, they were also resilient to outside influences and were, in all cases, successful in establishing colonies within the digestive tracts of all study participants. Additionally, BlueBiotics users have reported weight normalization; overweight and obese participants reported significant losses in stored body fat, while underweight individuals reported weight gain and stimulated muscle growth. BlueBiotics is safe for pets and children, but it is always wise to consult a physician before taking any supplement if you are pregnant or nursing. BlueBiotics is composed of very well-documented probiotic strains and is effective for any individual, regardless of diet, exercise level, and lifestyle.
BlueBiotics are only available for purchase online. However, there is now a discount offer available to those who purchase their product through our website (see the bottom of this page). If BlueBiotics are not available to you, check out our Top Five Probiotics list for our reviews of some excellent alternatives.
Where to Buy BlueBiotics: Ultimate Care
Click on the buttons below to go to their website with the
discount code automatically applied!
"After a prolonged stay in the hospital and several courses of antibiotics my digestive system was seriously compromised. A friend suggested I try Blue Biotics. Within a week I experienced marked improvement and within two weeks everything was back in balance. I felt better than I had in years and I have made Blue Biotics a regular part of my lifestyle."
"We were only going to order the one month supply at this point in time, but due to your fantastic helpful attitude, we wanted to show you our appreciation so we went ahead and ordered the 3 month supply. My wife has tried many other of these biotic products with very little results. She tried yours and is absolutely in love with it. Thanks again and keep up the good work…"
"Once I started using your product regularly I have seen a HUGE improvement with my IBS issues! Wonderful product!"
"My experience with Blue Biotics was outstanding, as I had Lyme Disease with the lingering side effects of intestinal issues… Now I want to continue to see how well I will do over a longer period since I've had such good results so far."
"I love blue biotics. I felt the best I have ever felt while taking them. I even had more energy than usual."
Frequently Asked Questions