Multivitamins are an important part to supporting the nutritional gaps of any diet. With so many different brands designed for so many different types of people, it can be difficult to find the best of the best. So we've compiled a list of the best of the best backed by research to help you pick the best supplement for you and your loved ones. 
This is where you will find only the brands which passed our lab's quality analysis. Our quality analysis, which is our basic supplement screening process, simply filters product that do not meet the following criteria:
The supplement must contain at least 95% of the vitamin quantity claimed by its label (5% deterioration is the standard allowance for storage and delivery)
The supplement must contain NO IMPURITIES OR ADDITIVES, such as artificial coloring, etc.
After the screening process, each product is graded according to additional criteria:
 Vitamin diversity – The variety of vitamins within each supplement. Finding a well-balanced supplement will promote overall health and helps to resolve broad-spectrum deficiencies.
Potency – the amount of vitamins within the supplement, measured in mg.
Price – self-explanatory, however it is important to remember that in most cases you get what you pay for.
As men and women have different dietary needs, we have included multivitamin options which are specific to either gender. We did not rate them against each other but instead picked our top products for each category. In addition to our top picks for men and women, there are two general-purpose multivitamins and our top prenatal vitamin choice.
A quick word about gummies and chewable tablets… You might notice that there are no gummy or chewable vitamins on this list, which is because gummies and chewable tablets contain 40%-70% less vitamins and minerals than standard multivitamins. We're looking for the best of the best.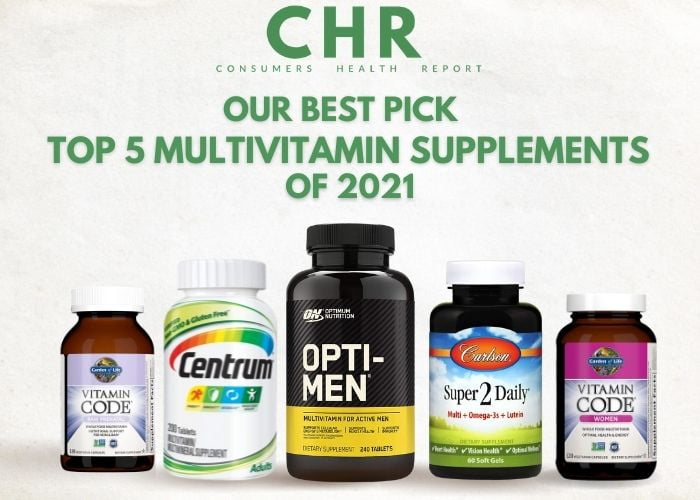 ---
          #1 Pick for Men
Optimum Nutrition Opti-Men is a comprehensive blend of vitamins, minerals, and amino acids that are essential for immunity, metabolism support and nutritional support for men of all ages. 
Optimum Nutrition has been around for a while and has gained a solid reputation for quality supplements. They also have a strong and loyal customer base and offer frequent discounts to new and returning customers.
Our analysis has shown that their multivitamin contains the promised ingredients listed on the label – which alone puts them above half of other multivitamin supplements. You'll be sure to get the bang for your buck with their guaranteed potency.
Given the diverse nutrition profile, purity of ingredients, and positive customer reviews – this places Optimum Nutrition Opti-Men as our Best Multivitamin for Men of 2021.
Key Features 
Key ingredients to improve energy and endurance 
Gluten free, dairy free, additive free & Non GMO
Contains a specialized acid-free amino blend for building muscle protein
Beneficial to men of all ages
---
          #1 Pick for Women
Garden of Life is another great, reputable company consistently delivering high-quality products. Our analysis showed excellent purity of ingredients and the promised amounts of each vitamin and mineral. Most importantly for a Women's multivitamin, this supplement contains high amounts of calcium and magnesium – as well as other key nutrients that should be in any Women's multivitamin. What really sets this product apart from the rest is its unique blend of real, raw fruits and vegetables condensed into the capsule to deliver these essential vitamins and minerals. The other thing we love about this is it's addition of probiotics and enzymes to assist digestion – although the probiotic is not potent enough to replace taking a specific probiotic supplements. Vitamin Code Women's probiotic potency comes in at 500 million CFU providing some digestive benefits but the best probiotic supplements are in the billions for CFU potency. Still, we love this product. Given the effective amounts and broad spectrum of the right vitamins and minerals, along with very positive customer ratings, Garden of Life Vitamin Code for Women earns the title of Best Multivitamin for Women of 2021.
Key Features 
Comprehensive vitamin, mineral & antioxidant blend designed to support women's nutritional needs
Gluten free, dairy free, additive free & Non GMO
Key ingredients that will help improve absorption of vitamins as well as breast health, heart health & reproductive health
Beneficial to adult women of all ages
---
          #1 Pick General-Multivitamin
Centrum Adult Multivitamin is a great choice for a general-multivitamin for men and women with a greater diversity and potency of vitamins than most competitors. Whether you are buying multivitamins in bulk for the adults in your family or just looking for a solid, affordable option to fill nutritional gaps in your diet — Centrum is a fantastic general-multivitamin for both men and women. It contains a variety of vitamins and minerals to support energy, immunity and metabolism. They are non-GMO and gluten free which makes it a good option for the environmentally conscious or diet conscious customer. 
The potency of this vitamin stood up to the test with our labs and came in at a solid 4/5 potency. This is a wonderfully diverse product in its variety of vitamins containing essential vitamins and minerals like D3, D, B, C, E, iron and zinc, just to name a few. Vitamin diversity comes in at a  4.5/5 by our standards. Centrum has earned its spot as our #1 best general multivitamin for three years in a row. You can't go wrong when choosing this product.   
Key Features 
Comprehensive vitamin, mineral & antioxidant blend designed to support both adult men and women of all ages
Gluten free, dairy free, additive free & Non GMO
Most affordable option 
---
For the extremely health conscious person, Carlson Super 2 Daily is a potent alternative to our general vitamin supplement picks, targeting fewer vitamin quotas but delivering solidly in potency. This award-winning product is packed with a variety of essential vitamins and minerals but especially focuses on those ingredients that support heart and vision health. These include vitamin A, E, C, D3, B6, B9, B12, as well as Riboflavin, Niacin, Lutei, and omega fatty acids. We also love this product because it is great for both men and women. Carlson is a family-owned business and has been in business since 1965 with an impeccable reputation for delivering potent, high-quality products. Customers report that this is one of the better-tasting multivitamins containing fish oil and report less of the fishy taste after taking. With the outstanding scores from our labs and raving reviews from their customers, you can't go wrong with Carlson Super 2 Daily – making it our #1 pick for multivitamins specializing in heart & vision health in 2021. This product can be purchased on their website or through amazon. 
Key Features 
Comprehensive vitamin, mineral & antioxidant blend designed to support heart health and vision health
Gluten free, dairy free, additive free & Non GMO
Beneficial to both adult men and women of all ages
---
Vitamin Code coming in again for one of our top spots — Vitamin Code Raw Prenatal is our #1 choice for Prenatal Health in multivitamins. It is also slightly less diverse in vitamins but this isn't a negative finding in a vitamin made for a super-specific population of people. It is packed with everything women need through all stages of child-rearing from pre-conception through pregnancy and through lactation and breastfeeding. It also contains all of the essential vitamins and minerals such as A, C, E, D, D3 and B-complex vitamins. One of the most important ingredients that sets prenatal vitamins apart from other types is a source of high-quality, high-potency folic acid. Folic acid is an essential nutrient for mom and baby to support healthy neural tube development and prevent birth defects. Vitamin code also contains a healthy dose of iron, which is essential during pregnancy where moms' oxygen demand is rising to avoid iron-deficiency. They also pack a high dose of Vitamin D and D3 which is essential for a baby's development in utero and while breastfeeding.
Vitamin Code delivers on the promise to be free of GMO products, gluten, synthetic fillers and additives that can be found in some other products. Its one of the cleanest supplements on the market for pregnancy women and our #1 pick for best prenatal vitamin 3 years in a row! 
Key Features 
Comprehensive vitamin, mineral & antioxidant blend designed to support women of reproductive age 
Beneficial to women before pregnancy/conception, during pregnancy and postpartum during lactation and breastfeeding
Gluten free, dairy free, additive free & Non GMO
Key ingredients such as folic acid and iron to help support a healthy reproductive system