Overall Rating:          2.9/5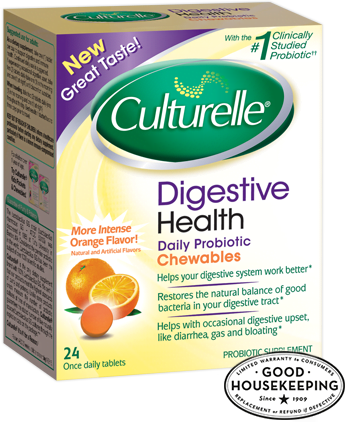 Culturelle Digestive Health Probiotic Chewables contain probiotics, vitamin c, and flavorings. Included on the label is nutrition information for children, and the taste of these probiotics seems to factor into consumer's buying decisions — whether for or against.
What to expect from the strains
Lactobacillus GG is a of the most well-researched and popular strain of probiotics. It's been shown to improve symptoms for many different health problems. However, the studies were typically conducted using capsules. If the chewables produce the same results, you can use these with the intent to treat vaginal yeast infections, constipation, and IBS symptoms.
Some evidence suggests that chewable probiotics are entirely ineffective and that the cultures are destroyed before ever reaching the stomach acid. As a general rule, we do not recommend chewables.
The Good
These are chewable for those who don't want to or can't swallow pills. Their taste has mixed reports, but is tolerable for many users. They include a vitamin (Vitamin C), chicory root, and additional active ingredients. They also specify nutrition information for children.
The Bad
With only one strain of probiotic, we do not expect these chewables to be effective for overall health and wellness. We also saw a low live cultural rate, especially when compared with probiotics that are properly stored in capsules.
The additional ingredients contain several common allergens as well as some questionably healthy flavorings and additions.
[amazon box="B00CM8L32M"]
How to Buy Culturelle Digestive Health Probiotics
Culturelle Digestive Health Probiotics can be found on Amazon.com here. 
Potency:……………………3.1
CFU: 10 Billion…………..3.0
Strains: 1…………………..2.5
Living Cultures:…………..3.5
Also, check out our Top Probiotics of 2017 reviews right here.