This is where you will find only the brands which passed our lab's quality analysis. Our quality analysis, which is our basic supplement screening process, simply filters product that do not meet the following criteria:
The supplement must contain

at least 95%

of the ingredient quantity claimed by its label (5% deterioration is the standard allowance for storage and delivery)

The supplement

must

contain

NO IMPURITIES OR ADDITIVES
After the screening process, each product is graded according to additional criteria:
Source – whether you opt for a fish-oil based omega 3 or a vegetable oil based omega, it's important that it's cleanly sourced. Fish oil, especially, can present a risk of mercury consumption.

EPA-DHA Balance — Both types of fatty acid .

Potency – the amount of Omega within the supplement; measured in mg.

Price – self-explanatory, however it is important to remember that

in most cases

you get what you pay for.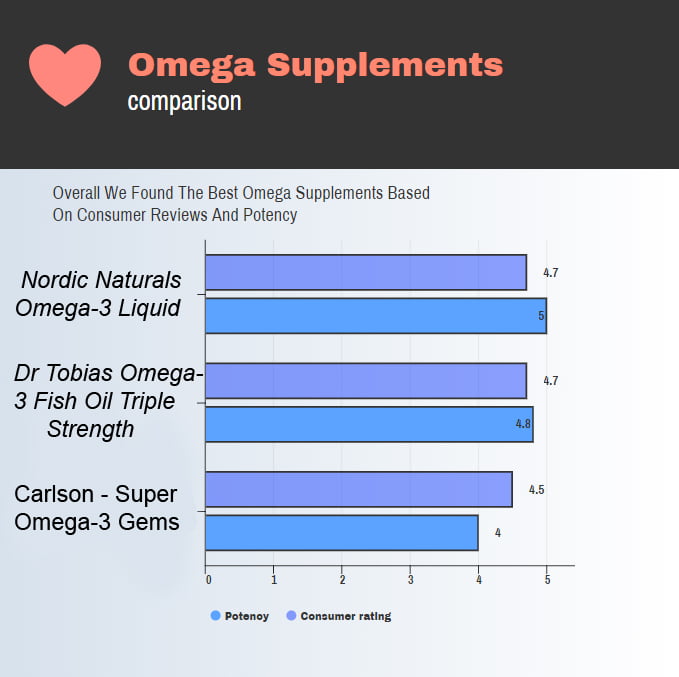 ---
by Great HealthWorks
Omega XL is a leader in the Omega 3 supplement industry and is privileged to have one of the best supply lines for purest Omega 3 fatty acids. Omega XL doesn't source their Omega 3 from standard fish, instead it is sourced from New Zealand green-lipped mussels.
Although this does drive up the cost of the product, the sheer variety of fatty acids found in these little critters is far more than that of fish. Over 30 different fatty acids, in fact, can be found in green-lipped mussels. Additionally, these mussels come from very clean waters and, as a bonus, supplements made using them do not have a fishy aftertaste (no fish burps).
Omega XL sets the standard for Omega 3 supplements and should be your choice if you can afford it. Omega XL is our choice for Best Omega Supplement of 2019.
Overall Score: 4.5/5
Thorough Coverage: 4.5/5
Effectiveness: 4.2/5
Potency: 4.0/5
---
by BioSchwartz
Sourced from Icelandic fish and tested for purity and quality, BioSchwartz offers an Omega 3 supplement which is a strong contender for the top Omega supplement of 2019.
Although not as complete a source of Omega 3 fatty acids, the value for the quality of this supplement is extremely high – you will not find a better option at this price range. Some consumers have reported an issue with a fishy aftertaste, however, aside from that, the customer feedback has been overwhelmingly positive.
Overall Score: 4.3/5
Thorough Coverage: 4.2/5
Effectiveness: 4.0/5
Potency: 4.5/5
---
Sourced from wild-caught fish and manufactured in a GMP facility, Dr. Tobias Omega 3 Triple Strength is a wonderful mid-range option for those looking to ramp up their intake of Omega 3.
Our analysis shows that this supplement delivers a verified 2000 mg of non-GMO Omega 3 fatty acids. As an added bonus, the enteric-coated capsules prevent the 'fishy' aftertaste that many Omega 3 supplements have.
Overall Score: 4.1/5
Thorough Coverage: 4.5/5
Effectiveness: 3.5/5
Potency: 4.0/5
---
by Arazo Nutrition
Overall Score: 4.0/5
Thorough Coverage: 4.3/5
Effectiveness: 3.5/5
Potency: 4.0/5
---
Overall Score: 3.8/5
Thorough Coverage: 3.5/5
Effectiveness: 3.9/5
Potency: 4.0/5